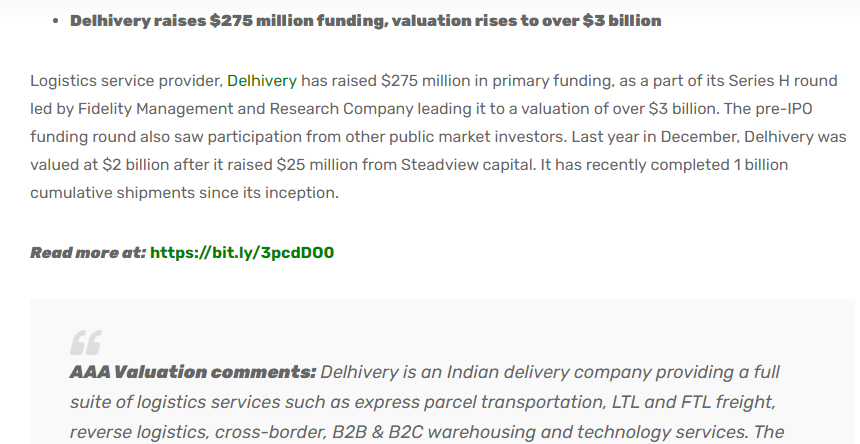 Delhivery raises $275 million funding, valuation rises to over $3 billion
Logistics service provider, Delhivery has raised $275 million in primary funding, as a part of its Series H round led by Fidelity Management and Research Company leading it to a valuation of over $3 billion. The pre-IPO funding round also saw participation from other public market investors. Last year in December, Delhivery was valued at $2 billion after it raised $25 million from Steadview capital. It has recently completed 1 billion cumulative shipments since its inception.
Read more at: https://bit.ly/3pcdDO0
AAA Valuation comments: Delhivery is an Indian delivery company providing a full suite of logistics services such as express parcel transportation, LTL and FTL freight, reverse logistics, cross-border, B2B & B2C warehousing and technology services. The company has managed to reduce its loss margin by 84% from INR 1,781.40 cr in FY 2019 to INR 284.13 Cr in FY2020. It has reported a revenue of INR 2,986.4 Cr in FY 2020 as against revenue of INR 1,694.9 cr in FY 2019. It is currently working with over 15,000 direct customers, including large & small e-commerce participants, SMEs, and over 500 leading enterprises & brands. The Indian logistics market is expected to grow at a CAGR of 10.7 percent during F.Y 2020-2024 through leveraging the use of cutting-edge technologies such as blockchain, AI, IoT, smart sensor applications. The competitors of the company includes Rivigo, Blackbuck, Echo Global Logistics, Xpressbee, DTDC, Bluedart etc.
Koo's valuation rises five times in three months in new funding round
Koo app, a homegrown microblogging platform, often referred to as an Indian alternative to Twitter, has raised $30 million from new investors, almost five times its previous valuation, soaring the company's valuation at over $100 million.
The new funding round was led by New York based investment firm Tiger Global along with two new investors- IIFL's venture capital fund and South Korea's Mirae Asset Management. 3one4 Capital, Accel and Blume Ventures, the existing investor also participated in the funding round.
Read more at: https://bit.ly/3yWzygg
AAA Valuation comments:The capital infusion into the company has come at a time when social media platforms including Twitter (US- based) are facing increased government scrutiny over alleged non-compliance with India's new IT rules for significant social media intermediaries, to which Koo claims to have complied with. Koo app had 4.7 million monthly active users (MAU) and under 0.6 million daily active users (DAU) in April, 2021. The company has touched nearly 6 million downloads, as compared to 3-4 million in February.
Banking tech startup Zeta becomes the newest Indian unicorn
Bengaluru based banking technology solutions provider Zeta has become newest startup to join the unicorn club after it raised $250 million from Japenese investment giant SofyBank from its Series- C round. The latest round of funding has pushed the company's valuation by more than three times touching the mark of $1.45 billion. Zeta plans to use the fresh infusion of capital to expand its presence in the US and European markets where banks are moving away from branches to offering their services online. The current deal has more than quadrupled Zeta's valuation since 2019, when Sodexo SA valued it at $300 million.
Read more at: https://bit.ly/3yU8K0k
AAA Valuation comments: Banking software is a $300 billion industry globally. The company has 10 banks and 25 fintech companies across eight countries among its customers. Big Indian banks like HDFC Bank, Kotak Mahindra, Axis, and others also count in as its clients.Zeta provides the only fully modern platform for banks that can be deployed in parallel for new programs and new customers without uprooting legacy technology, increased income, improved customer engagement and reduced fraud by leveraging Zeta's Omni Stack. Zeta's Omni Stack Comprises:
Zeta Tachyon Credit, Debit and prepaid processing with card controls and personal finance management capabilities.
Zeta Tachyon Loans – a modern Buy-Now-Pay-Later and personal loan management platform.
Zeta Tachyon Deposits – a modern core for DDA, checking accounts, savings accounts and deposits
Zeta Tachyon Mobile – a ready-made, white labelled, customizable mobile app for credit cards, checking accounts, prepaid, loans, Buy-Now-Pay-Later, personal finance management.
Indian B2B unicorn InfraMarket acquires Equiphunt for $10 million
Infra.Market, a tech-enabled marketplace for construction materials, purchased a majority stake in Sociam Equipment Solutions Pvt. Ltd, which owns a brand name of Equiphunt, a Hyderabad-based construction equipment rental service. This is the first acquisition by the newly minted unicorn. The acquisition size is $10 million. It has been said that that the existing investors in Equiphunt will exit and the Founder of Equiphunt will get stake in Infra.Market.
Read more at: https://bit.ly/3uH9Ed9
AAA Valuation comments:Equiphunt founded in 2016, currently has a presence in over 25 cities across India. It acts as a one-stop solution provider to all equipment and service requirements for its B2B customers. Mumbai-based Infra.Market raised $100 million in a new funding round led by New York-based investment firm Tiger Global that took its valuation to $1 billion in February. The buyout will help Infra.Market build and scale up its equipment rent. The use of IoT (Internet of things) and other technology based platform will improve the utilisation of machinery and enhanced scalability in operations in the unorganised construction sectors which is one the largest components of Indian economy (~8%)
PharmEasy finally confirms merger with MedLife
Online pharmacy PharmEasy has completed the acquisition of Medlife to become the largest healthcare delivery platform in India. The consolidated entity will cater to more than two million families every single month. It has been said by the company that all the users of Medlife would be migrated to PharmEasy.
Read more at: https://bit.ly/3fFQ2BQ
AAA Valuation comments:India's e-health market has recently witnessed a flurry of activity and is set to become a $16-billion opportunity by Financial Year 2025. PharmEasy currently works with around 80,000 pharmacies and is planning to expand that to 1,20,000 outlets across 100 cities by the end of 2021.
Paytm plans to launch India's biggest IPO, aims to raise $3 billion
Digital payments provider Paytm is all set to make its market debut as early as this year, with an aim to raise $3 billion (around Rs 22,000 crore). If successful, this could be the biggest initial public offering (IPO) by an Indian company, breaking Coal India's 2010 record of Rs 15,475 crore.
Read more at: https://bit.ly/3i9ba5p
AAA Valuation comments:Paytm is backed by investors like SoftBank Group, Ant Group and Berkshire Hathaway. The company is targeting a valuation of $25 billion to $30 billion, 1.5-1.8 times the current valuation of $16 billion, the highest of all Indian startups. In March, it achieved over 1.4 billion transactions, against 1.2 billion transactions in February. As per the company, it continues to register, on average, 15 per cent month-on-month growth.
Tata Digital buys 64% stake in BigBasket
Cementing their mark into the online grocery market, Tata Sons, through its subsidiary Tata Digital, has acquired a majority stake in BigBasket. It is being said that Tata Digital has infused primary capital of $200 million in the egrocer at a post-money valuation of $2 billion.
Read more at:https://bit.ly/2RcyjbT
AAA Valuation comments: Following the deal, BigBasket has given full exit to two of its biggest investors, Chinese tech giant Alibaba and Actis LLP with 25% and 16.77% stake, respectively.
AAAVP Monthly Highlights
New Assignments
Valuation of an EPC company
Assignments Completed
Restructuring of EPC company with assets more than 1100 Cr.
Webinars Conducted by AAA Group
Best Resolution Options for Homebuyers- CA Anil Goel, CA Ankit Goel, CA Anand Sonbhadra & Mr. Umesh Goyal
Pre-packaged Insolvency Resolution Process for MSME- CA Anil Goel & CA Ankit Goel
Impact of recent changes in regulations on preparing financial statements & ITR for FY 2020-21- CA Ankit Goel, CA Anil Goel & CA Sandeep Vij
Knowledge Sharing by AAA Group Partners
Webinar by Department for Promotion of Industry and Internal Trade & Ministry of Commerce and Industry on Accounting and Finance Service Industry- CA. Anil Goel
ASSOCHAM National E-Summit, Udyog Jagat ki Soch and Manthan- Building Modern Indian for V shaped Economy- CA. Anil Goel
Bhartiya Vitta Salahkar Samiti's on Managing Liquidation – Practical Insights with Case Laws
Interview by Frank Rausan Pereira, Chief Editor at Bharata First on Pre-Packaged Insolvency Resolutions Process- CA. Anil Goel
Interactive Session by ICAI on the latest IBC Ordinance on Pre-Packaged Insolvency Resolution for MSME- CA. Anil Goel
Webinar by CASansaar on Opportunities in Pre-Packaged Insolvency Process – CA Anil Goel & CA. Ankit Goel
Virtual Session by Women Members Empowerment Committee (WMEC) of ICAI on- Management Skills & Professional Opportunities in Diversified field- CA. Anil Goel
Webinar by COSIA on- In depth presentation on: Pre-Packaged Insolvency Resolution Process, The Best Remedy for MSME Financial Stress- CA Anil Goel
Webinar by Chamber of Chartered Professionals on Pre-Packaged Insolvency Resolution Process- Resolution of Financial Stress for MSMEs- CA. Anil Goel & CA Ankit Goel
National E-summit by ASSOCHAM India on Bad Bank Development Finance Institutions- CA Anil Goel
CEP Program by WIRC of ICAI- Interactive Q&A Web Session on Prepack Insolvency for survival of MSME- CA Anil Goel
Webinar by ICMAI Registered Valuers Organization on Global Trends in Valuation: Intangibles & Brand Valuation- CA Ankit Goel
Webinar by All India Institute of Valuers Foundation on Caveats, Disclaimer & Limitations- CA Ankit Goel
Webinar by Northern India Regional Council Women Committee of ICAI on Pre-Packaged Insolvency Resolution Process for MSMEs- CMA Deepika Bhugra
Article on "Valuers under IBC" published in the monthly Journal of ICAI- Mr. Anil Sharma
Interesting Trivia
Between 24th May to 29th May, 2021, a total of $553 Mn was invested in Indian startups across 22 deals.
In 2008, Ford Motors was running its luxury subsidiary 'Jaguar-Land Rover (JLR)' in a loss of $520 million. When nobody was ready to buy this highly indebted car company that was consistently losing its market, Tata came to its rescue. It not only bought the JLR for $2.3 billion, but it also reported a $3400 million profit in the year 2019.
gradCapital, a Bengaluru based platform launched by IIM-A and BITS Pilani alumnus with over $1 Mn fund to support and invest in startups founded by college students.