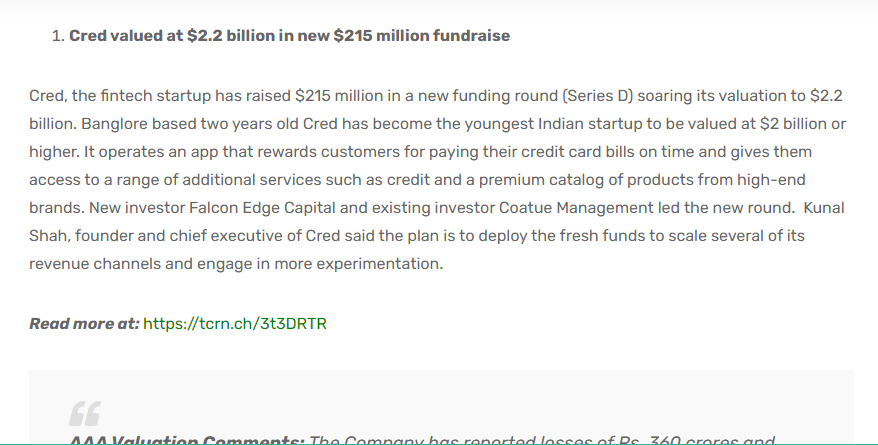 Cred valued at $2.2 billion in new $215 million fundraise
Cred, the fintech startup has raised $215 million in a new funding round (Series D) soaring its valuation to $2.2 billion. Banglore based two years old Cred has become the youngest Indian startup to be valued at $2 billion or higher. It operates an app that rewards customers for paying their credit card bills on time and gives them access to a range of additional services such as credit and a premium catalog of products from high-end brands. New investor Falcon Edge Capital and existing investor Coatue Management led the new round. Kunal Shah, founder and chief executive of Cred said the plan is to deploy the fresh funds to scale several of its revenue channels and engage in more experimentation.
Read more at: https://tcrn.ch/3t3DRTR
AAA Valuation Comments: The Company has reported losses of Rs. 360 crores and revenue of Rs. 52 lakhs during FY 19-20. Currently India has approximately 60 million credit cards users that largely serves the high end market and CRED caters to more than 6 million customers, i.e. about 22% of all credit card holders and 35% of all premium credit card holders. The company has also ventured into rent solutions and loan products for its customers.
Swiggy bags $800 million, valuation soars to $5 billion
Online food delivery platform Swiggy has raised $800 million in its latest Series J round funding. The new round funding was led by new investors- Falcon Edge Capital, Amansa Capital, Think Investments, Carmignac and Goldman Sachs. The online food delivery giant has raised a total of $2.2 billion to date. It is being said that sovereign wealth funds Singapore's GIC Pvt. Ltd and Qatar Investment Authority (QIA) are also expected to join the ongoing round at a later stage, post which Swiggy is expected to close the fundraise.
Read more at: https://bit.ly/3wILOQs
AAA Valuation Comments: The Company has recorded a loss of Rs. 3908 crores and a Revenue of Rs. 2693 crores during the FY 2019-20. The company has shown strong recovery post lockdown due to COVID with its new venture Swiggy Instamart (delivery of Grocery items with 45 Minutes) and with the surge in demand.
New unicorn born in India, as PharmEasy joins the billion-dollar club
API Holding, the parent company of PharmEasy, Mumbai based online pharmacy has raised $323 million as a part of its Series E funding from Prosus Ventures (formerly Naspers Ventures) and TPG Growth. Existing investors Temasek, CDPQ, LGT Lightrock, Eight Roads and Think Investments have also participated in the round. The plan with the fresh capital is to expand its footprint in existing market by partnering with over 100,000 pharmacies in the next 12 months.
Read more at: https://bit.ly/3 utfTSi
AAA Valuation Comments: PharmEasy offers services including online medicines, healthcare products and booking lab tests in more than 100 cities. The Pharmeasy (healthtech startup) market competitors are the company's like Net Meds (owned by Reliance Retail), 1mg, Amazon online Pharmacy (Pillpack services). The sector is expected to grow by 2023 to $ 2.7 bn by 2023 as a result of Covid-19 and the subsequent behavioral shift towards ecommerce which will serve as a catalyst for growth for online pharmacies.
BYJU'S to acquire Aakash Educational Services in $1B deal
BYJU'S, the world's leading ed-tech company has announced its strategic partnership with Aakash Educational Services Limited (AESL). It is being said that the deal is worth close to USD 1 billion (about 7,300 crores) making it the biggest acquisition by Byju's to date. In 2019, it acquired U.S. based Osmo for $120 million, and last year, it bought kids-focused coding platform WhiteHat Jr. for $300 million.
Read more at: https://tcrn.ch/328ezbc
AAA Valuation Comments: Aakash's pedagogy expertise in the test-preparation segment will combine with BYJU'S content and tech capabilities. It is said that the acquisition will enable the two entities to build the largest omni-channel for students in India and will help in crossing $1bn mark in revenues for Byju's
Adani Ports acquires residual 25 pc stake in Krishnapatnam Port for Rs 2,800 crore
Adani Ports and Special Economic Zone Ltd (APSEZ) paid about 2.5 times more to buy the 25 per cent stake Vishwa Samudra Holdings in Krishnapatnam Port for Rs 2,800 crore, making it the most expensive by equity value of the five ports the Ahmedabad-based infrastructure conglomerate has purchased since 2014.
Read more at: https://bit.ly/3dSfLVG
AAA Valuation Comments: Krishnapatnam Port, located on the east coast of India in Nellore district of Andhra Pradesh, is an all-weather, deep water port has multi-cargo facility with a current capacity of 64 million tonne per annum. The port is right on track to handle double the traffic by 2025 and is expected to deliver high growth through multi-product and cargo enhancement strategy while enhancing return on capital employed.
Spinny gets $65 million funding, valuation shoots to $350 million
Spinny, an online platform for used cars has concluded its Series C funding round by raising $65 million and is not at a post-money valuation of $350 million. The new round was led by Silicon Valley-headquartered venture firm General Catalyst, while Feroz Dewan's Arena Holdings, Think Investments and existing investors Fundamentum Partnership and Elevation Capital participated in it.
Read more at: https://tcrn.ch/3uF0r5y
AAA Valuation Comments: Spinny is a Gurgaon based startup that operates a platform to facilitate the sale and purchase of used cars. The pandemic created hesitation about taking an Uber or Ola and led people towards exploring options of buying their own cars, which accelerated the growth. It is currently operational in five Indian cities and plans to expand to 15 cities by the end of 2021.
Gupshup lands $100 million funding, valuation hits $1.4 billion
Conversational messaging platform Gupshup has raised $100 million from Tiger Global, pushing the company's valuation to $1.4 billion. first financing round in a decade, having last raised Rs 50 crore ($10 million) in 2011 at a valuation of Rs 1,000 crore (around $218 million at the time). It helps companies from Amazon.com Inc. to Xiaomi Corp. develop customer-relations chatbots on websites or services like WhatsApp. Gupshup the tenth startup to enter the country's unicorn club this year. It counts CRV, Globespan Capital Partners and Helion Ventures among its investors.
Read more at: https://bit.ly/2QiDdDf
AAA Valuation Comments: The Company was founded in 2004 and has experimented with various business models in the messaging segments over the years. The startup's annual revenue run rate hit $150 million in 2020 and its API enables over 100,000 developers and businesses to build messaging and conversational experiences delivering over six billion messages per month across 30-plus messaging channels. The company's current suite of solutions includes messaging APIs, a Bot Platform, Bot building tools, scripting engine, Omni channel inbox etc. The company caters to banking and financial service providers, ecommerce, travel and hospitality etc.
Bharat Road Network sells UP road project Singapore's Cube
Srei Infrastructure's Bharat Road Network (BRNL) has signed a deal with Cube Highways an Infrastructure (a portfolio company of I square Capital) to sell its 126km road project in Uttar Pradesh from Ghaziabad to Aligarh on National Highway 34 for an enterprise value of Rs 1,600 crore. BRNL along with its partners has signed a deal for the complete transfer of ownership in an operating toll road project from Ghaziabad to Aligarh on NH34. It currently holds a 39% stake in the project.
Read more at: https://bit.ly/2QgDd6M
AAA Valuation Comments: Bharat Road Network is a road BOT (build, operate and transfer) company focused on development, operation and maintenance of national and state highways in Uttar Pradesh, Kerala, Haryana, Madhya Pradesh, Maharashtra and Odisha. The project was granted a 24-year concession in 2011 for strengthening and widening the two-lane highway. Toll collection on this road started in June 2015. The company has a total outstanding borrowings of Rs. 1,555.57 crores as on 31.03.2020 and the deal reaffirms its commitment to reducing debt and capitalizing on growth opportunities in the highways sector.
ShareChat is this year's 9th unicorn as it raises over $500 million
Indian social media platform ShareChat has raised $502 million from Tiger Global Management and LightSpeed Ventures, while Snap Inc, Twitter and India Quotient, too, participated in the round. With the latest investment, the startup's valuation has gone up to $2.1 billion.
Read more at: https://bit.ly/320hCCw
AAA Valuation Comments: ShareChat is a regional language social media platform and plans to use the new funding for its short video platform Moj, which it had launched in July last year, right after Chinese short video app TikTok's ban in India.
InMobi to list on Nasdaq by December at $15 billion valuation
InMobi, the mobile advertising platform that was the first Indian company to touch a billion dollars in valuation early last decade, is planning an IPO in the US in the last quarter of 2021. A successful listing for InMobi, an AdTech firm will be a first for the Indian tech start-up community.
Read more at: https://bit.ly/3tmIhFi
AAA Valuation Comments: InMobi was co-founded by Harvard Business School (HBS) alumnus Naveen Tewari 13 years ago. The company delivers mobile-first programmatic advertisements with its own marketing automation platform. Their target markets are primarily in the US and in China.
AAAVP Monthly Highlights
Valuation Assignments Completed
Draft report for Loan Restructuring of an EPC company with Book Value of Assets more than 1876 Cr.
CIRP case of an Auto Ancilliary with Book Value of Assets Rs 26 Cr.
Independent Valuation for Financial company of Real Estate Assets in NCR
Valuation of Liabilities of a new company
Valuation Assignments awarded
Revaluation of Assets at 8 locations of a company under court receivership.
Real Estate assets under CIRP in NCR with Book Value of Rs 80 Cr
CIRP assignment of company with Assets spread Pan India with Book value more than Rs 320 Cr.
Empanelment
Canara Bank
Magma Housing & Finance
Interesting Trivia
Half a dozen Indian startups raised $1.55 billion (Rs 11,580 crore) to enter the unicorn club between April 5 and April 9, 2021. It has been a record-setting week of funding in the domestic new age Internet ecosystem.
The six deals announced covered multiple sectors, including healthcare (PharmEasy), social commerce (Meesho), fintech (Groww and Cred), and social and content platforms (Gupshup and ShareChat parent Mohalla Tech).
Goldman Sachs Group was the leading financial advisor in the year 2020, to merger and acquisition (M&A) deals worldwide and managed M&A deals worth 152.8 billion U.S. dollars.
Chinese company Toutiaou, internationally known by TikTok is at the top of the Unicorn list and is valued at $75 billion.