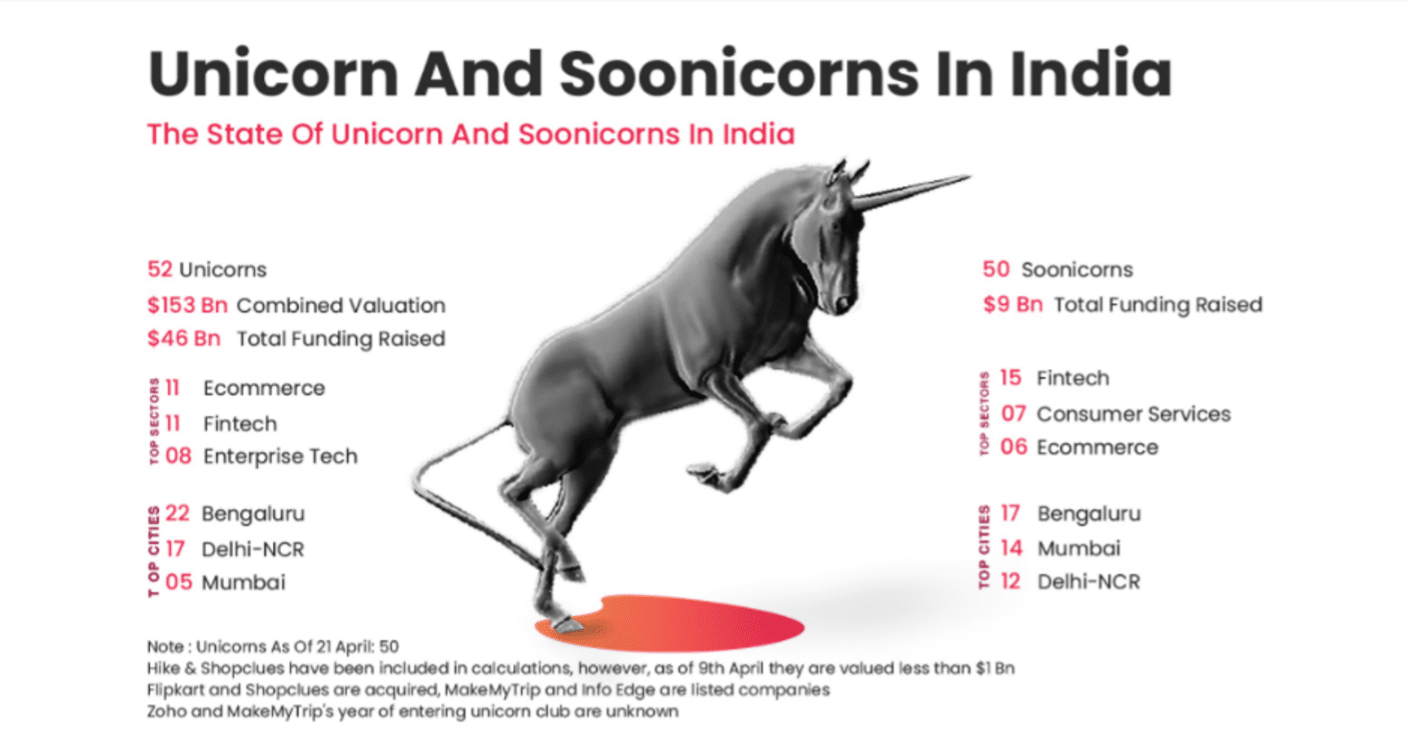 BlackBuck joins the unicorn club after $67 million fundraise
Online freight and logistic platform BlackBuck bagged a $67 million in a recent round of equity financing. The round was led by Tribe Capital, IFC Emerging Asia Fund and VEF. Existing investors Wellington Management, Sands Capital, and International Finance Corporation also participated in the round. Post this round of funding, the Bengaluru based company has joined the unicorn club with a valuation at $1.02 billion up from about $850 million in 2019 Series D round. Blackbuck is the 16th Indian startup to become a unicorn this year.
AAA Valuation Comment: In India, road freight is the largest transportation segment in India, constituting around 63% of the total freight movement across the country. The Zinka Logistics Solutions Private Limited (BlackBuck) was incorporated in the year 2015 to provide a platform that connects businesses with truck owners and freight operators. Currently, 700,000 truckers and 1.2 million trucks are connected to the platform with over 15 million transactions every month. The company has an advantage of increasing number of low cost android smartphones, access to the affordable mobile data with truck owners and drivers, government policies for digital adoption such as FASTag, mandatory GST adoption by many state government. Major peers to the company includes Rivigo , elasticrum, Delhivery, Ecom Express.
Read more at: https://tcrn.ch/3yhZGSj
Droom closes pre-IPO funding at $1.2 billion valuation
Indian automobile online marketplace Droom raised $200 million in its latest round of funding described as pre-IPO growth. The new round of investment has valued the seven year old startup at $1.2 billion, up from about $500 million in October 2018. In addition to participation by several existing investors, new investors including 57 Stars and Seven Train Ventures participated in the first closing of the round. The company is the 17th Indian startup to become a unicorn.
AAA Valuation Comment: Droom Technology Private Limited was incorporated in the year 2014 to provide an AI and data science driven online transactional platform in buying & selling used & new automobiles. Droom has four marketplace formats i.e. B2C, C2C, C2B & B2B, and three pricing formats – Fixed Price, Best Offer & Auction. Droom's current run-rate is $1.7 billion for gross merchandise value (GMV) and $54 million for net revenue. It has plans to remain on track until it touches a GMV of $2 billion and a net Revenue of $65 million in CY2021. The increasing digital adoption and preference in consumers for ownership of automobiles versus public transportation or ride-sharing as a result of pandemic has offer an advantage to the company.
Read more at: https://tcrn.ch/37aearl
Moj and ShareChat raise additional $145 million in Series F funding, touches $2.88 billion valuation
Mohalla Tech, the parent company behind social media platform Moj and ShareChat has raised $145 million as an extension of its Series F round crossing valuation of $2.88 billion. The investment was led by Singapore state investor Temasek, Moore Strategic Ventures (MSV) and Mirae-Naver Asia Growth Fund that is jointly set up by Mirae Asset and South Korean web portal Naver Corp. The additional capital infusion of $145 million is an additional investment beyond the $502 million raised recently in April from Tiger Global, Lightspeed, Snap Inc and Twitter, when the company had touched the valuation at $2.1 billion.
AAA Valuation Comment: ShareChat app – an Indian social media and social networking service app and Moj – a short video platform developed by Mohalla Tech Pvt Ltd. Currently, the monthly active user community for Moj and ShareChat is 160 million and 180 million respectively across 15 Indic languages. The app facilitates the customer or creators to create content material over the platform and charges fees for advertisements, payment transactions, sponsored campaigns. In this content sharing applications field the company competes with ByteDance owned Hello, Roposo, Betterbutter, Giphy etc.
Read more at: https://bit.ly/3ffvb81
BharatPe in talks for $350 million funding, likely to become next Indian unicorn
New York based Tiger Global Management LLC is set to spearhead a possible investment of about $350 million in BharatPe to hit a valuation of more than $2 billion. If this fruitions, the fintech startup will be India's next unicorn. Along with Tiger Global's plan to invest $100 million in the new round of funding, the existing investors Coatue Management and Ribbit Capital will also participate in the round. The transaction is expected to close soon.
AAA Valuation Comment: Delhi based BharatPe recently acquired Payback in June, 2021 and plans to help 500,000 merchants on its platform to roll out loyalty programmes and work as redemption points for customers over the next six months. The company processes payments worth $10 billion annually through its QR Codes, and expects it to reach $30 billion by Financial Year 2023. They further plan to have 10 million merchants onboard by the end of March 2022 compared to 6 million at the end of financial year 2021.
Read more at: https://bit.ly/2TMkfHx
Lenskart raises $220 million, valuation touches at $2.5 billion
Eyewear Company, Lenskart raised $220 million from investors in a funding round recently soaring its valuation to $2.5 billion. The funding round was led by Singapore's sovereign wealth fund Temasek along with investors like Falcon Edge Capital, Bay Capital and Chiratae. The company plans to make investments in its supply chain, new technologies and expand in Southeast Asia and the Middle East.
AAA Valuation Comments: The new investment in the Bangalore-based startup includes primary and secondary transactions. A month ago Lenskart unveiled that it raised $95 million from global investment fund KKR. Company's early investors TPG Growth and TR Capital have divested a portion of their stake in the company. SoftBank is the largest investor holding around a 20% stake. It sells products online and offline through its 750 retail outlets in 175 cities across the country and has more than 7 million customers annually.
Read more at: https://bit.ly/3ifJCLb
Flipkart's valuation crosses $37.6 bn after raising $3.6 bn in funding
E-commerce giant Flipkart has raised a whopping $3.6 billion funding from investors soaring its valuation at $37.6 billion, more than a 50 per cent rise in a year. This funding is by far the largest in the Indian start-up ecosystem. It was led by financial investors GIC, Canada Pension Plan Investment Board (CPP Investments), SoftBank Vision Fund 2, and Walmart, along with investment from sovereign funds DisruptAD, the Qatar Investment Authority, and Khazanah Nasional Berhad. Other marquee investors were Tencent, Willoughby Capital, Antara Capital, Franklin Templeton, and Tiger Global.
AAA Valuation comments: With more than 350 million registered users in the country, Flipkart is now among the 10 largest e-commerce companies in the world by valuation. Last year Walmart led a $1.2-billion spherical in Flipkart, valuing the e-commerce agency at $24.9 billion. The current fund raise will give sufficient firepower to Flipkart to counter competitors from Amazon, Reliance JioMart and Tata Digital, especially after it made its foray into the area by buying a controlling stake in BigBasket.
Read more at: https://bit.ly/3lgMFVe

AAAVP Monthly Highlights
Valuation Assignment Received
Secured assignment for Business valuation of Automobile Company with book value of assets worth more than Rs. 232 crores
Secured assignment for valuation of securities and financial assets for company engaged in brokering business with book value of assets worth more than Rs. 41 crores.
Secured assignment for valuation of Land and Building assets for company engaged in manufacturing with area measuring more than 20 acres.
Valuation Assignment Completed
Draft report of Real estate developer under CIRP with assets value of more than Rs.790 crores
Draft report of Real estate developer under CIRP with assets value of more than Rs.308 crores
Draft report of EPC Company under liquidation; projects spread PAN India with assets value of more than Rs. 2800 crores
Knowledge sharing Sessions by Partner:
Association of Valuation Professionals invited Partner Ankit Goel for a Panel Discussion on 'Zomato- IPO Valuation' on 29th July, 2021
Watch the video here: https://www.youtube.com/watch?v=CCgDUNvcWjI
Partner Ankit Goel was invited by the Committee on Capital Market and Investors
Protection of The Institute of Chartered Accountants of India (ICAI) as the Session Speaker for a Virtual CPE Meeting on 'Opportunities in Valuation in Capital Market' on 27th July, 2021. Watch the video here: https://www.youtube.com/watch?v=Nq-0659Yy9o&t=11s
The Professional Development Co-ordination Committee of The Institute of Chartered Accountants of India (IPAICAI) and ICMAI RVO invite Partner Anil Sharma to share his Valuer's Perspective in the RV Conclave on Experience, Challenges & The Way Forward on 20th July, 2021.
Partner Ankit Goel interacted with professionals pursuing to be Registered Valuers as a part of as part of their 50 Hour Training with IOV-Registered Valuers Foundation on 15th July, 2021.
Founder Chairman CA. Anil Goel at the National E-Summit Series on IBC and Valuation organized by ASSOCHAM on 15th July, 2021
ICMAI Registered Valuers Organization held a Master Class on 'Practical Challenges in Valuation and How to Overcome them' on 8th July, 2021 wherein Partner Nitin Jain addressed the session.
Interesting Trivia
Candy Crush, a popular online video game brings in a reported $633,000 a day in revenue.
Starbucks spends more on health care insurance for its employees ($300 million) than on coffee beans.
Apple had a third founder, Ronald Wayne, who had a 10% stake in the company. He left the fledgling company after 12 days and forfeited his shares for $2,300 (about $9,600 today).
Of all Microsoft's expensive acquisitions on this list, its biggest one ever was the $26.2 billion deal to buy LinkedIn.