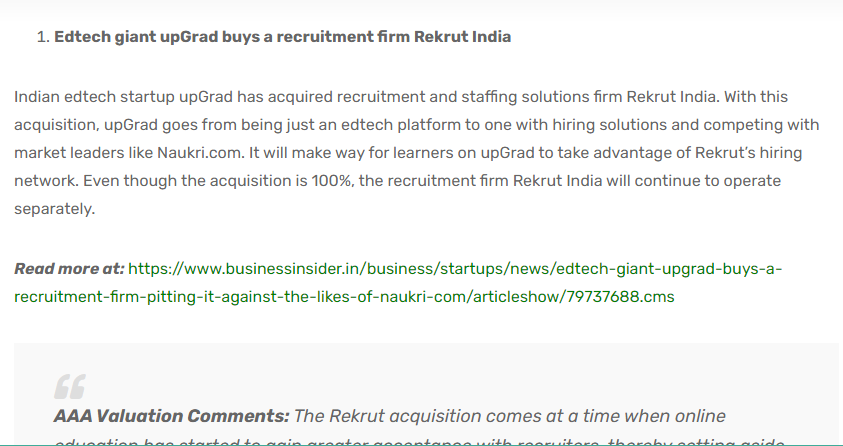 Edtech giant upGrad buys a recruitment firm Rekrut India
Indian edtech startup upGrad has acquired recruitment and staffing solutions firm Rekrut India. With this acquisition, upGrad goes from being just an edtech platform to one with hiring solutions and competing with market leaders like Naukri.com. It will make way for learners on upGrad to take advantage of Rekrut's hiring network. Even though the acquisition is 100%, the recruitment firm Rekrut India will continue to operate separately.
Read more at: https://www.businessinsider.in/business/startups/news/edtech-giant-upgrad-buys-a-recruitment-firm-pitting-it-against-the-likes-of-naukri-com/articleshow/79737688.cms
AAA Valuation Comments: The Rekrut acquisition comes at a time when online education has started to gain greater acceptance with recruiters, thereby setting aside the age-old offline-online perception divide when it came to hiring talent.
Ford and Mahindra call off auto joint venture
In a sudden and surprising move, American auto maker Ford and homegrown Mahindra and Mahindra decided to call off their automotive joint venture. The companies in separate statements said that the decision was driven by changes in the global economy over the last 15 months, causing both to reassess their capital allocation priorities. The deadline to finalize the venture between the companies was December 31st, 2020 and both made decision to end the agreement rather than close a deal or extend the timetable to do so.
Read more at: https://www.moneycontrol.com/news/business/ford-mahindra-call-off-auto-joint-venture-6291451.html
AAA Valuation Comments: Pressure to pursue mergers or alliances in the auto industry has grown as the costs of developing electric and self-driving vehicles drives companies to preserve funds for those efforts. France's PSA and Fiat Chrysler Automobiles NV expect to close their $38 billion merger in the first quarter of 2021.
B2B marketplace MSMEs Udaan gets $280M from existing, new investors, valuation up from around $2.6B
Udaan- the business-to-business e-commerce marketplace unicorn for small and medium businesses has raised 280$M in additional financing from its existing investors apart from few new investors. The distribution portal, which enables retailers and businesses to source merchandise from manufacturers, brands, white labels, importers, etc. on a single platform, has raised the latest round from existing investors. The latest funding is part of the Series D round wherein the company had raised $585 million in 2019. The total investment in the company so far stood at $1.15 Billion while the latest round valued the company at around $3 billion.
Read more at: https://www.financialexpress.com/industry/sme/msme-fin-b2b-marketplace-for-msmes-udaan-raises-280-million-from-new-existing-investors-valuation-jumps-marginally/2165579/
AAA Valuation Comments: The Indian retail B2B market is likely to grow at a 10 per cent CAGR from $714 billion in FY19 to reach $1.3 trillion by FY25 while the online B2B segment could be more than $60 billion by 2025. The margin in the eB2B segment is expected to go up from the current 0-4 per cent with an almost two-fold potential-jump on the back of direct procurement from brands, providing value-added services such as technology solutions, credit, etc.
Deliveroo's fresh funding round brings valuation to over $7bn ahead of IPO
Food delivery startup Deliveroo has secured $180 million in new funding, pushing its valuation to over $7 billion ahead of its long awaited stock market debut. In the series H funding round was led by Durable Capital Partners and Fidelity Management & Research and indicates the strong demand from investors ahead of its IPO.
Read more at: https://www.ft.com/content/ab5044a6-fcc7-447e-befb-ee7be0f0f1e9
AAA Valuation Comments: In 2019, Deliveroo's losses climbed to £319.9m as it spent money on expansion but in its recent half-year results revealed it had turned a profit in 11 of the 12 markets it operates in. Pandemic lockdowns have supercharged the online food delivery business. Deliveroo's revenue doubled in UK and Ireland.
Cred raises $81 million in series C funding at a post-money valuation of $806 million
Bengaluru based credit card payment and management platform Cred has raised a fresh $81 million as part of its Series C funding round at a post-money valuation of $806 million. The company said that the fresh capital will be used to launch new product offerings for members in collaboration with existing and new partners this year.
Read more at: https://www.financialexpress.com/industry/cred-raises-81-million-in-series-c-funding-at-a-post-money-valuation-of-806-million/2164303/
AAA Valuation Comments: Cred says that over 35% of the country's premium credit card holders are on the platform and the members spend nearly two times that of an average credit card user in the country. It is one of the most talked about startups in India especially because of the scale at which its valuation has soared and the amount of capital it has been able to raise.
Affirm Aims At Over $10 Billion Valuation In New IPO Filing
The Silicon Valley startup Affirm, a BNPL (Buy now, pay later) platform boosted the price range of its IPO (initial public offering), potentially raising $1.08 billion. At $44 per share price, Affirm would have a valuation in excess of $10 billion.
Read more at: https://www.pymnts.com/news/ipo/2021/affirm-aims-at-over-10-billion-dollar-valuation-new-ipo-filing/
AAA Valuation Comments: A website named pymnts.com, in its latest BNPL tracker indicated that the BNPL market has benefitted from a pandemic-fueled interest in BNPL, especially among younger shoppers and older millennial.
NCLT has approved NHPC's Resolution Plan for Jalpower Corp
The NCLT has approved state-run NHPC's Rs 165 crore resolution plan for taking over Jalpower Corp as going concern. NHPC Limited, India's premier hydropower company and a PSU under Ministry of Power signed Definitive Agreement on 13th January 2021 for implementation of the Approved Resolution Plan for takeover of 120 MW Rangit-IV HE Project of Jalpower Corporation Limited (JPCL) in Sikkim. The agreement was signed between NHPC, Resolution Professional and Secured Financial Creditors (PFC and PNB).
Read more at: https://economictimes.indiatimes.com/news/economy/policy/nclt-approves-nhpcs-rs-165-crore-resolution-plan-for-jalpower-corp/articleshow/80159015.cms
AAA Valuation Comments: NHPC is engaged in electric power generation by hydroelectric power plants. The firm is also engaged in contracts, project management and consultancy works. As of 30 September 2020, the Government of India held 70.95% stake in the company.
CoC approves resolution plan for Dewan Housing Finance Corporation
Dewan Housing Finance Corporation announced that the e-voting on resolutions pursuant to the Eighteenth (18th) meeting of the Committee of Creditors of the Company (CoC) concluded on 15 January 2021 and the resolution plan submitted by Piramal Capital and Housing Finance (under Option I in terms of the RFRP dated 16 September 2020) was duly approved by CoC by majority voting under section 30(4) of the Insolvency & Bankruptcy Code read with Reg. 39(3) of CIRP Regulations, as the successful resolution plan.
Read more at: https://timesofindia.indiatimes.com/business/india-business/dhfl-resolution-lenders-approve-piramals-bid/articleshow/80324156.cms
AAA Valuation Comments: DHFL was the first finance company to be referred to NCLT by the RBI using special powers under section 227 of the IBC. As on July 2019, the company owed Rs 83,873 crore to banks, the National Housing Board, mutual funds and bondholders.
AAAVP Monthly Highlights
Concluded valuation of a CIRP case for a Power Plant of 300 Mw with assets valued at Rs 1800 Cr. The draft report was accepted by the RP without any comments.
Draft report for another CIRP case of a Power Plant of 600 MW was submitted to the RP. Assets valued at Rs 3000 Cr.
Draft report for CIRP case of a Holding Company with interests in Power and Infrastructure submitted to RP
Draft report for valuation of regional properties of a major Public Sector Bank has been submitted.
Successful in getting empaneled with PNB in 5 Zonal Offices across India
Interesting Trivia
Jack Bogle, one of the most successful investors was once fired for a bad merger (Wellington Management Co. with a go-go fund management group). It cost him $1 billion in assets and his job after which he went on and found The Vanguard Group.
The historic Arcelor–Mittal Deal happened in January 2006. Lakshmi Mittal, the chairman of Mittal Steel announced a hostile bid for Arcelor. After an intense struggle, the two companies merged to become the world's largest steel which controlled 10% of the global steel business. The deal was valued at $38.3 billion.
On March 20, 2017, India's third-largest telecommunications company, Idea Cellular (Idea), announced US $ 23 billion, to merge with the world's second-largest company, Vodafone India Limited (Vodafone), to build India's most lucrative company estimated at US $ 12.5 billion