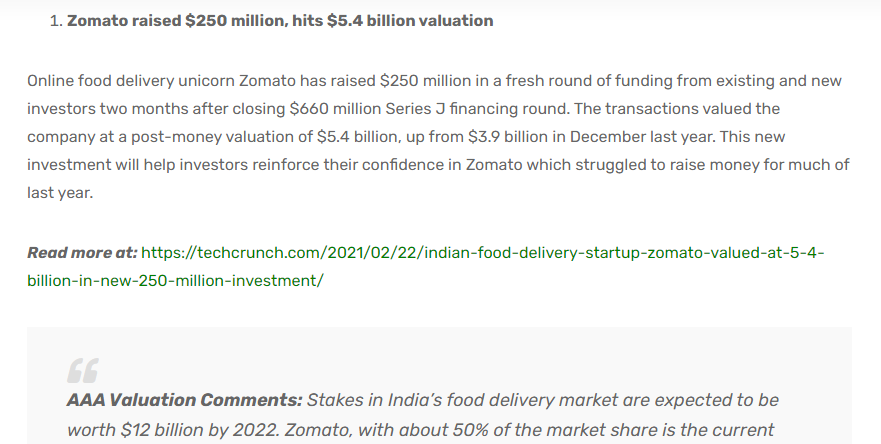 Zomato raised $250 million, hits $5.4 billion valuation
Online food delivery unicorn Zomato has raised $250 million in a fresh round of funding from existing and new investors two months after closing $660 million Series J financing round. The transactions valued the company at a post-money valuation of $5.4 billion, up from $3.9 billion in December last year. This new investment will help investors reinforce their confidence in Zomato which struggled to raise money for much of last year.
Read more at: https://techcrunch.com/2021/02/22/indian-food-delivery-startup-zomato-valued-at-5-4-billion-in-new-250-million-investment/
AAA Valuation Comments: Stakes in India's food delivery market are expected to be worth $12 billion by 2022. Zomato, with about 50% of the market share is the current leader in the domain. December 2020 is expected to be the highest ever Gross Merchandise Value (GMV) month in the history of Zomato. The money raised may help in building war chest for prospective M&A. In the past, Zomato has completed many strategic acquisitions to increase its presence such as acquisition of its rival Uber Eats Indian business in January, 2020 and TechEagle Innovations acquisitions for delivery through multi rotor drones in 2018.
Bharti Airtel to buy 20% stake in its DTH arm from Warburg Pincus affiliate
Bharti Airtel Ltd will buy back 20% stake in its direct-to-home arm Bharti Telemedia from US private equity firm Warburg Pincus' affiliate entity Lion Meadow Investment Ltd television unit for ₹3,126 crore. In December 2017, the affiliate company had acquired 20% stake in Bharti Telemedia Ltd for Rs 2258 crore. As a part of the deal, Airtel will issue 36.47 million of its own equity shares at Rs 600 per share on a preferential basis to Lion Meadow at a premium of about 0.50 percent to the floor price determined as per ICDR regulations and pay ₹1,037.8 crore in cash.
Read more at: https://www.businesstoday.in/current/corporate/bharti-airtel-to-acquire-warburg-pincus-20-stake-in-dth-arm-for-rs-3126-crore/story/431569.html
AAA Valuation Comments: Bharti Telemedia had a turnover of Rs 2,923.8 crore as on March 31, 2020. Its principal activities consist of setting up, operating and maintaining Direct-to-Home (DTH) cable through digital and any other mode of broadcasting service and includes broadcasting of interactive and personalized content within India. The purchase of 20% equity shares from Lion Meadow Investment Limited will result in 71% holding of the Bharti Airtel in its DTH arm. The DTH companies in India are facing hindrances in growth due to the increase in the annual license fees from 6% to 10% of the Adjusted Gross Revenue (ADR). Also, the new tariff order (NTO2.0) are the adversely affecting the margins of these companies along with the stiff competition from the video streaming (OTT) platforms.
Adidas plans to divest Reebok brand
Adidas AG is planning to sell or spin-off its underperforming Reebok brand 15 years after it bought the Boston-based US fitness label for $3.8 billion in 2006 to compete with arch-rival Nike. A banking source has reported that the business could be worth around 1 billion euros.
Read more at: https://economictimes.indiatimes.com/news/international/business/adidas-plans-to-divest-reebok-brand/articleshow/80995596.cms
AAA Valuation Comments: Reebok's net sales fell 7% in the third quarter of 2020 to 403 million euros ($488 million), after falling as much as 44% the preceding quarter. In 2019, Adidas wrote down Reebok's book value by nearly half, compared with 2018, to 842 million euros. The divestment will help to recognize the growth prospectus of both the brands independently.
Byju's plans to seal $800-million Aakash Educational deal by March
India's largest online-education startup Byju's has signed a deal to acquire Blackstone backed Aakash Educational Services Ltd for $1 billion. Byju's is valued at 12$ billion and has been looking at expanding ever since the demand of online classes peaked during the pandemic. More than 70 million users logged in from over 1,700 cities around the country out of which over 4.5 million are paid users.
Read more at: https://www.business-standard.com/article/companies/byju-s-likely-to-buy-aakash-educational-for-700-800-million-by-march-121022501658_1.html
AAA Valuation Comments: Akash Educational Services was founded in 1988 and serves more than 250,000 students. It sold 37.5% stake to Blackstone in late 2019 in a deal that valued the Indian firm at about $500 million. Byju's is a Bangalore based startup which owns and operates more than 200 physical tutoring centers across the country.
Razorpay looks at $2 billion valuation in new funding round
Payments solution startup's is in talks with existing investor Singapore's sovereign investment fund GIC and a few others for a $150-200 million fundraise. This capital infusion may almost double the company's valuation to $2 billion. Founded in 2014, Razorpay raised a total of $206.5 million in four investment rounds and gained 'unicorn' status in October 2020 when it hit valuation of over $1 billion after raising $100 million from multiple investors.
Read more at: https://www.moneycontrol.com/news/business/razorpay-in-talks-with-gic-for-150-200-million-investment-at-valuation-of-2-billion-report-6570391.html
AAA Valuation Comments: Razorpay, a fin-tech startup has raised $206.5 million in four investment rounds since its inception in 2014. Prior to the $100 million round in 2020, it had raised $75 million in series C funding in 2019 led by Ribbit Capital and Tiger Global. The company will utilize the funds to launch products for its neo-banking business Razorpay X and lending business Razorpay Capital, seeking to double their growth in the coming year. It also plans to hire 500 people across functions of growth, product and technology.
Tiger Global may pump $100 million into Groww at $1 billion valuation
Tiger Global is in talks to lead a $100 million funding round in online investment platform Groww, valuing the five-year-old company at around $1 billion. This latest valuation is about three times higher than that in September last year when it raised $30 million. So far it has raised close to $60 million from investors such as Ribbit Capital, Sequoia Capital and US-based financial services investor Propel Venture Partners.
Read more at: https://economictimes.indiatimes.com/tech/startups/tiger-global-may-pump-100-million-into-groww-at-1-billion-valuation/articleshow/81268814.cms
AAA Valuation Comments: Groww (Nextbillion technology private limited), which received its broking license in 2018, a bengaluru based startup with nearly 10 million registered customers and faces stiff competition from Zerodha, Upstox and Paytm Money. It has 800,000-1 million transacting customers on the platform and has witnessed month-to-month transactions of greater than $500 million by September last year. Its business model includes a mix of fees on stock trading through a flat discount broking model, while charging customers for select subscription-based advisory services.
Reddit's valuation doubles to $6 bn after new funding round
Reddit Inc's valuation has doubled to $6 billion after raising $250 million in a fresh round of funding after the social media company saw a spike in users during the COVID-19 pandemic and more recently has gained attention for its role in the recent Wall Street trading frenzy. It raised $250 million in a late-stage funding round led by venture-capital firm Vy Capital. Previously, it was valued at $3 billion after its last funding round in February 2019.
Read more at: https://www.livemint.com/companies/news/reddits-valuation-doubles-to-6-bn-after-new-funding-round-report-11612835021655.html
AAA Valuation Comments: Reddit has more than 50 million daily active users. Its advertising revenue has increased 90% in the December-ended quarter from last year. Reddit plans to use the new funding to invest in areas such as video, advertising and consumer products, as well as to expand into international markets. Last year, the Reddit bought video-sharing app Dubsmash to expand its presence in user-created video, one of the hottest corners of the internet, for an undisclosed sum.
Grofers Explores Merger With Cantor Fitzgerald's SPAC For Nasdaq Listing
Grofers is in talks to make its public market debut through a merger with New York-based Cantor Fitzgerald's blank-check firm. The online grocer is expected to raise between $400 million and $500 million through the listing in May—on the tech-heavy NASDAQ—at a valuation of more than $1 billion. If it goes through, this would be the first time an Indian company takes up SPAC route make its market debut.
Read more at: https://www.moneycontrol.com/news/business/grofers-in-talks-with-cantor-fitzgeralds-spac-for-nasdaq-listing-report-6565021.html
AAA Valuation Comments: In the fiscal year ended March 31, 2020 (FY20), Grofers' revenue grew 111% year-on-year (YoY) to INR 176.79 Cr. But its expenses also increased by 53% to INR INR 814.29 Cr. Thus, the company saw its net loss grow 42% to INR 637.49 Cr.
Shipping Corporation of India sell off: Safesea, JM Baxi submit EOIs
US-based Safesea Group and Bain Capital-backed ship operator JM Baxi & Co have submitted expressions of interest (EoIs) to participate in the privatization process of Shipping Corporation of India, setting up a contest for the takeover of the Navratna PSU. Safesea Group is a two-decade old company promoted by Indian-origin businessman SV Anchan. The company is headquartered in New Jersey. JM Baxi & Co is one of India's oldest shipping operators established in 1913. It is promoted by Krishna Kotak and his family. SCI is among the four PSUs that the government has identified for privatization in the last fiscal year.
Read more at: https://m.economictimes.com/industry/transportation/shipping-/-transport/shipping-corporation-of-india-selloff-safesea-jm-baxi-submit-expressions-of-interest/amp_articleshow/81285213.cms
AAA Valuation Comments: The Company owns a fleet of 59 vessels and operates into 3 divisions namely Liner & Passenger Services Division (L&PS), Technical & Offshore Services Division (T&OS), Bulk Carrier & Tanker (B&T) Division. The strategic disinvestments comprises of transfer of entire holding of GOI i.e. 26,69,42,977 equity shares (63.75%) held in the SCI along with the transfer of management control to investors. The company had posted a net profit of Rs 131 crore for the quarter ended September and total income of Rs 876 crore.
AAAVP Monthly Highlights
Concluded valuation of the following CIRP cases:
Power Plant of 600 MW with Book value of assets at Rs 3000 Cr under CIRP
Holding Company with interests in Power and Infrastructure under CIRP
Regional properties of a major Public Sector Bank
Properties in Mumbai under Voluntary Liquidation
EPC Company under Liquidation with Book Value of assets at Rs 142 Cr
Assignments awarded including
Listed Company with Pan India operations and assets with book value of Rs 194 Cr
Listed EPC Company with Pan India Operations and assets with book value of Rs 2700 Cr.
Valuation of Land and Building assets of a premier Chemicals company for the purpose of demerger.
Interesting Trivia
Goldman Sachs backed- ReNew Power has become the first renewable company from India to reverse-merge with a US listed blank cheque financier- also known as special purpose acquisition company (SPAC)- RMG Acquisition Corp II
Two new unicorns- Innovaccer, a health tech firm and Infra.market, a startup in the real estate space have joined the rapidly growing club of startups in India. Interestingly, both the companies have seen their valuations swell in just a matter of months, in a pandemic period.
Zoom, the ultimate beneficiary amid pandemic announced its overnight revenue gain of 326% in 2020, with no signs of slowing down. Sources have revealed that its revenue is expected to grow 175% for the next quarter and 42% for this year even after the pandemic eased.
Tesla is set to welcome its new competitor Lucid Motors to go public through a SPAC merger, with a proforma valuation of nearly 24 billion USD. With the go-public, Lucid is expected to receive USD 4.4 billion in cash – USD 2.1 billion from CCIV and USD 2.5 billion from private equity investors including BlackRock and Saudi Arabia's sovereign fund.
Zomato has about 440,000 delivery partners, a larger workforce than that employed by Indian Department of Posts.