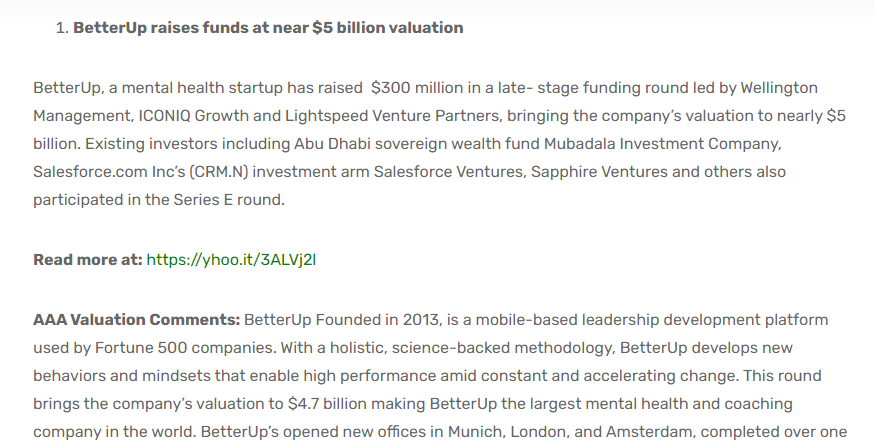 BetterUp raises funds at near $5 billion valuation
BetterUp, a mental health startup has raised $300 million in a late- stage funding round led by Wellington Management, ICONIQ Growth and Lightspeed Venture Partners, bringing the company's valuation to nearly $5 billion. Existing investors including Abu Dhabi sovereign wealth fund Mubadala Investment Company, Salesforce.com Inc's (CRM.N) investment arm Salesforce Ventures, Sapphire Ventures and others also participated in the Series E round.
Read more at: https://yhoo.it/3ALVj2l
AAA Valuation Comments: BetterUp Founded in 2013, is a mobile-based leadership development platform used by Fortune 500 companies. With a holistic, science-backed methodology, BetterUp develops new behaviors and mindsets that enable high performance amid constant and accelerating change. This round brings the company's valuation to $4.7 billion making BetterUp the largest mental health and coaching company in the world. BetterUp's opened new offices in Munich, London, and Amsterdam, completed over one million coaching sessions along with recent strategic acquisitions of advanced people experience platforms Motive and Impraise, announced last month.
Vedantu raises $100m at $1billion valuation, becomes India's 5th edtech unicorn
Edtech platform Vedantu has raised $100 million in series E round valuing the company at over $1 billion. The funding round was led by Singapore-based impact investing fund ABC World Asia, and also saw existing investors Coatue, Tiger Global, GGV Capital, Westbridge, among others. With the current valuation, Vedantu has moved on to become the 28th Indian unicorn in 2021 and 5th edtech unicorn.
Read more at: https://bit.ly/3vuyfEg
AAA Valuation Comments: Vedantu is an e-learning company that provides a software platform connects tutors and student, provides real-time one to one teaching to students online across k-12 and test preparation segments. Across 48 countries, over 2 lakh paid users and 35 million students access this platform, expects over half a million to turn into paid users in this academic year. Turnover was increased of almost 3x times in 2020. Vedantu acquired doubt solving app Instasolv in feb and majority stake in Pedagogy in july.
SaaS Labs raises $17 million in Series A funding
SaaS Labs has raised $17 million as a part of its Series A funding from Base 10 Partners and Eight Roads Ventures. The company is a a cloud-based platform that builds productivity and business process automation software for SMBs and enterprises.
Read more at: https://bit.ly/3jwvmy3
AAA Valuation Comments: Saas Labs develops software products that revolve around productivity and business process automation. Founded in 2016, the India-based company develops products for sales, support and marketing teams as well as contact centres to enhance productivity. With a 70-member team in India and the Philippines, SaaS Labs plans to double headcount by the end of 2021. The company currently serves over 6000 companies globally, including Divvy Homes, Jaguar, Ernst & Young, and Walmart. SaaS Labs currently has two main products: Justcall and Helpwise. The company will use the funding to expand its customer base, hire people, and release new products and services.
AlphaSense bags $180 million in Series C funding
Artificial Intelligence driven market intelligence platform, AlphaSense, announced that it has raised $180 million in its Series C funding round led by Viking Global Investors. This round brings the total funds raised by the company to $300 million since it was founded in 2011.
Read more at: https://bit.ly/3j8TV3x
AAA Valuation Comments: AlphaSense was established in 2011 and headquartered in New York, is a market intelligence search engine that uses AI specifically designed to understand and sort business information, providing curated public and private content to its almost 2000 enterprise customers in a way that expedites market and investment research. AlphaSense is trusted by over 1,800 enterprise customers, including a majority of the S&P 500, over 75% of the S&P 100, 70% of the top asset management firms, 76% of the top consultancies, all of the largest 20 pharmaceutical companies, and leading companies in wide-ranging industries such as energy, industrials, consumer goods, and technology. AlphaSense's technology leverages AI and NLP to extract relevant insights from an extensive universe of public and private content, including over 10,000 premium business sources. AlphaSense employs over 450 people across offices in the U.S., U.K., Finland, and India.
Tata Group acquires national carrier Air India
The Tata Group acquired struggling national carrier Air India with the highest bid at nearly $2.4bn, an airline it founded almost 90 years. More than two-thirds of the airline's revenues come from its international operations. The group already operates two airlines. One is Vistara, which is a joint venture with Singapore Airlines and budget airline AirAsia India, a venture with Malaysia's AirAsia Group Bhd.
Read more at: https://bit.ly/3ARCzhQ
AAA Valuation Comments: The government has approved a bid of Talace Private Limited ("TPL") a wholly owned subsidiary of Tata Sons Private Limited to own 100% of government stake in Air India Ltd ("AIL") along with equity shareholding of AIL in Air India Express Ltd ("AIXL") and Air India SATS Ltd ("AISATS") for an enterprise value of Rs. 18,000 crores which includes debt of Rs 15,300 crore and cash payment of Rs 2,700 crore. The AIL held 100% stake in low-fare unit Air India Express ("AIXL") and 50% stake in ground-handling firm AISATS. Out of the total debt of Rs.61,562 crore, remaining debt of Rs. 46,262 crore was taken over by Air India Asset Holding Ltd (AIAHL), along with the non-core assets of Rs. 14,718 crores. The Air India and Air India Express will join Vistara and AirAsia India in the Tata's table, allowing the group to find synergies.
AAAVP Monthly Highlights
Knowledge sharing Sessions by Partner:
IIV RVF & AVP organized a Webinar on ' IVS 230 & Practical aspects of Valuing Inventory' on 08th October, 2021, wherein our Partner CA. Ankit Goel featured as the Speaker to address the Session.
ICMAI RVO organized a Webinar on 'Knowledge Upgradation Session on Valuation' on 13th October, 2021, wherein our Partner CA. Ankit Goel featured as the Speaker to address the Session.
Valuation Assignment Received
Secured assignment for valuation of assets of company engaged in the Real estate projects with book value of assets worth more than Rs.48 crores.
Valuation Assignment Completed
Intangible asset valuation of company engaged in the manufacturing of garments for the purpose of financial reporting.
Brand valuation of company engaged in the manufacturing of two wheelers & three wheelers.
Report of company in the exploration of oil & gas under CIRP with assets value of more than Rs. 218 crores.
Report on Valuation of assets of an undertaking engaged in hotel business with assets value of Rs. 1080 crores.
Interesting Trivia
India raced ahead of many developed countries including China, the UK and Canada, in adding new unicorns during the third quarter (Q3) of calendar year 2021 and bagged the second position in unicorn race.
The total risk funding in domestic crypto and block chain startups shot up to $587.16 million as of October 17 this year, compared to $37 million in the previous year.
The Rubik's cube is the best-selling product of all time. The iPhone is second
Sixty-four percent of consumers have made a purchase decision based on social media content.