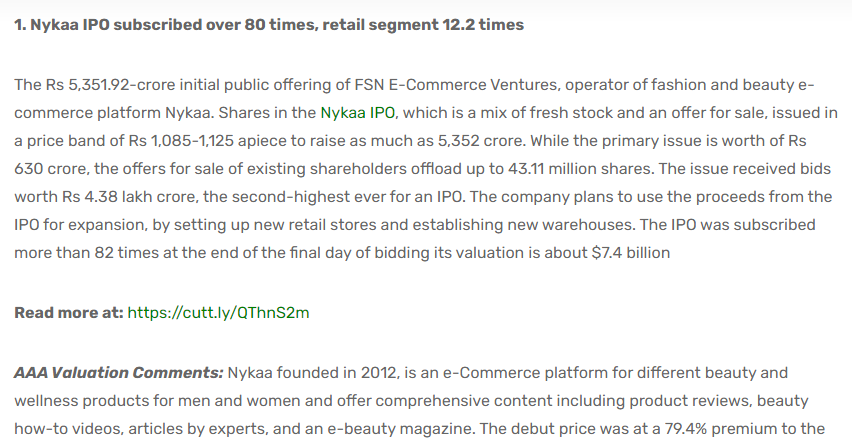 1. Nykaa IPO subscribed over 80 times, retail segment 12.2 times
The Rs 5,351.92-crore initial public offering of FSN E-Commerce Ventures, operator of fashion and beauty e-commerce platform Nykaa. Shares in the Nykaa IPO, which is a mix of fresh stock and an offer for sale, issued in a price band of Rs 1,085-1,125 apiece to raise as much as 5,352 crore. While the primary issue is worth of Rs 630 crore, the offers for sale of existing shareholders offload up to 43.11 million shares. The issue received bids worth Rs 4.38 lakh crore, the second-highest ever for an IPO. The company plans to use the proceeds from the IPO for expansion, by setting up new retail stores and establishing new warehouses. The IPO was subscribed more than 82 times at the end of the final day of bidding its valuation is about $7.4 billion
Read more at: https://cutt.ly/QThnS2m
AAA Valuation Comments: Nykaa founded in 2012, is an e-Commerce platform for different beauty and wellness products for men and women and offer comprehensive content including product reviews, beauty how-to videos, articles by experts, and an e-beauty magazine. The debut price was at a 79.4% premium to the (IPO) price of Rs 1,125, giving the company a valuation of Rs 95,437 crore. Nykaa has grown its revenues at a massive 84% CAGR over last 4-years and has massive opportunity to grow to over $150 billion in next 4-5 years. Nykaa's IPO oversubscribed due to its profitability, scale of operations, strong management team and high growth prospects. The company has been EBITDA positive since the financial year 2019 indicated that the company was profitable at an operational level. Nykaa commands the reduced search costs value proposition of a brand by helping consumers in decision making. NYKAA is overvalued based on its PB Ratio (227.6x) compared to the Online Retail industry average (1.8x).
2. Latent View gets Rs 1.12-lakh crore bids for Rs 600-crore public offer
The ₹600-crore initial public offer of Latent View Analytics received record bids with the issue getting subscribed 338 times on the final day of bidding. The issue got bids for 572.18 crore shares worth ₹1.12 lakh crore, which is more than five times the demand for India's largest-ever IPO from Paytm. Latent was selling 1.75 crore shares in the IPO. The portion reserved for non-institutional investors was subscribed 850.66 times, a record for a ₹500-crore plus IPO. BSE data showed retail investors' quota was subscribed 119 times, whereas institutional investors bid for 145.48 times the shares set aside for them.
Read more at: https://cutt.ly/fTz17Jw
AAA Valuation Comments: Latent View Analytics provides data and analytics consulting, business analytics, advanced predictive analytics, data engineering, and digital solutions. The company follows a 1:5 ratio for their onsite: off-site employees, hence saving costs in the margin. It has achieves USD 65 thousand dollars per employee, which is a testimony to their premium work. The company was selling its shares at a price band of ₹190-197. In unofficial grey market, Latent View Analytics was trading at a premium of ₹310 apiece, about 156% over ₹197. Company's business model is supported by stable and recurring revenues, significant operating leverage and low capital requirements that contribute to a healthy free cash flow. Over FY19-21, the company's revenue/EBITDA/net profit grew at a CAGR of 3%/20%/24%, respectively. It has worked with over 30 Fortune 500 companies. More than 90% of the revenue comes from export of services. Good records over peer available in the market makes latent in the buy call among subscribers.
3. Zoomcar gets $92 million in SternAegis-led round
Zoomcar has raised $92 million through a private sale of shares to investors, led by SternAegis Ventures with participation from international family offices and institutional investors, the self-drive car rental company said in a news release Monday. Zoomcar intends to use the proceeds from this financing to grow its car-sharing marketplace in India and various select markets across Asia and the MENA (Middle East and North Africa) region.
Read more at: https://cutt.ly/nThAeHp
AAA Valuation Comments: Zoomcar founded in 2013, is India's first and largest car sharing service that allows individuals to rent vehicles by the hour or by the day and operate more than 10,000 cars. It has been valued at Rs. 1778 Cr. Zoomcar reported revenue of INR 294.6 Cr in the financial year 2020, representing a 10% increased YOY. The startup currently has more than 75% of market share. Its biggest outdoor campaign is through word of mouth which covers a traffic of 50-55%, which shows its brands value and adding synergies to increase the market share and helps in competition with peers. Zoomcar is having very strong following over internet with more than 135k followers.
4. Neobank Fi valued at $315 million after $50 million funding led by B Capital
Fi, a neobank that offers digital bank accounts and financial guidance to working professionals, has raised $50 million in a new funding round led by Facebook cofounder Eduardo Saverin's B Capital, with participation from Falcon Edge Capital. Fi had raised $13 million from Ribbit Capital and Sequoia Capital, in a seed round last year. The latest funding comes after an intermediate capital infusion of about $12 million from existing investors, taking the total to $62 million. In total, Fi has now raised $75 million since inception.
Read more at: https://cutt.ly/6ThnUQ4
AAA Valuation Comments: Fi.Money founded in 2019, is a neobank that provides a financial app with a zero-balance savings account. Over a million users had registered on Fi's waitlist to open a savings account after its early access launch in April. The platform is seeing about three-four million monthly transactions. The valuation is about $315 million, a 7x jump over 2020. The quick services offered and instant resolution of queries, building trust and reliability with the users. Fulfilling the financial needs of 60 million users digitally growing market base in the backdrop of $180 ARPU for top retail banks.
5. Zetwerk Manufacturing set to raise $250 million at $2.5 billion valuation
Zetwerk Manufacturing, a contract maker of consumer goods and capital goods, is stitching together a $250-million funding round led by US-based Iconiq Capital and Greenoaks. The new funding round is a mix of primary as well as secondary capital where some of its existing investors and early backers will completely exit, thereby realigning the capitalisation table
Read more at: https://cutt.ly/RThnOoD
AAA Valuation Comments: Zetwerk founded in 2018, is an end-to-end manufacturing supply chain solutions provider that helps small and medium enterprises translate their digital designs into physical products. The funding would value the company at close to $2.5 billion, almost double of August this year. The company had turned Ebitda positive and was likely to grow 4x in the current financial year to clock a revenue of around Rs 3,500 crore. Zetwerk saw its revenues grow three times to Rs 949 crore for the year ended March 2021.
6. Unacademy acquires online learning platform Swiflearn
Edtech platform Unacademy announced the acquisition of Swiflearn in a deal worth $15-20 million. Swiflearn is an online platform that provides live face-to-face online tuitions for school students. Unacademy claims to boast a network of 60,000+ registered educators and over 62 Mn Learners and offers content in 14 Indian languages to learners across 10,000 cities.
Read more at: https://cutt.ly/MThnP9K
AAA Valuation Comments: Founded in 2019, Swiflearn is an online platform for academic courses, which provides personalised home tuition experience to students of grades 1-10 in CBSE and ICSE boards. The platform hosts more than 30,000 classes every month, 1500 teachers and has over 1.2 lakh registered learners. Unacademy was valued at $3.4 Bn during its last round. Swiflearn strengths of pedagogy, content, and personalised classes combined with Unacademy's product, brand and reach will strengthen its position in the K-12 category and optimise its product offerings in the space.
AAAVP Monthly Highlights
Knowledge sharing Sessions by Partner:
ICMAI RVO organized a Webinar on 'IVS 200 – Business and business interest, IVS 220 – Non financial liabilities and IVS 500 – Financial instruments' on 08th November, 2021, wherein our Partner CA. Ankit Goel featured as the Speaker to address the Session.
AVP, organized a Webinar on 'Paytm IPO' on 12th November, 2021, wherein our Partner CA. Ankit Goel featured as the Speaker to address the Session.
OPTOTAX organized a Webinar on 'Valuation – An overview' on 13th November, 2021, wherein our Partner CA. Ankit Goel featured as the Speaker to address the Session.
Valuation Assignment Received
Secured assignment for business valuation of the company engaged in the Healthtech services.
Secured assignment for valuation of asset of company engaged in IT services with book value of assets worth more than Rs. 3.68 crores.
Secured assignment for project valuation of company engaged in the Real-estate and development.
Valuation Assignment Completed
Equity share valuation of company engaged in providing Internet of Things (IOT) ecosystem and smart city solutions.
Interesting Trivia
Apple's market cap is higher than entire BSE 500 companies
NSE is the second-largest exchange globally by the number of trades in equity shares.
The current series of bank notes are called Mahatma Gandhi Series. The Mahatma Gandhi series of notes were introduced in 1996.
The name VOLKSWAGEN means 'Peoples Car' in German.