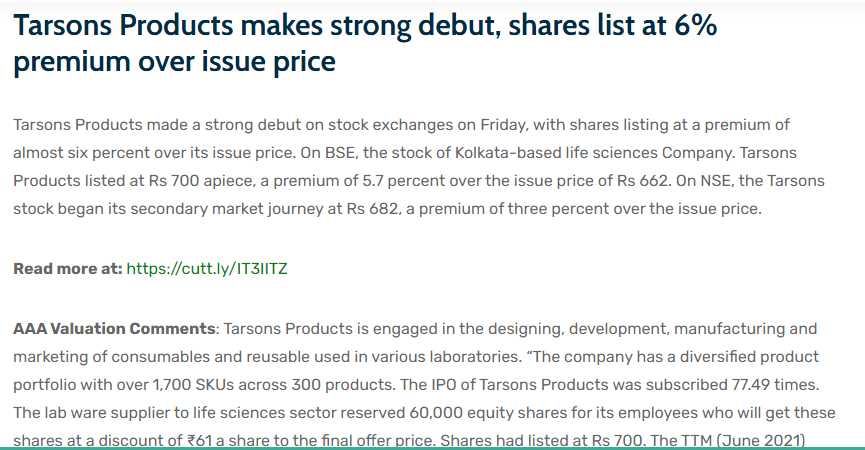 Tarsons Products makes strong debut, shares list at 6% premium over issue price
Tarsons Products made a strong debut on stock exchanges on Friday, with shares listing at a premium of almost six percent over its issue price. On BSE, the stock of Kolkata-based life sciences Company. Tarsons Products listed at Rs 700 apiece, a premium of 5.7 percent over the issue price of Rs 662. On NSE, the Tarsons stock began its secondary market journey at Rs 682, a premium of three percent over the issue price.
Read more at: https://cutt.ly/IT3IITZ
AAA Valuation Comments: Tarsons Products is engaged in the designing, development, manufacturing and marketing of consumables and reusable used in various laboratories. "The company has a diversified product portfolio with over 1,700 SKUs across 300 products. The IPO of Tarsons Products was subscribed 77.49 times. The lab ware supplier to life sciences sector reserved 60,000 equity shares for its employees who will get these shares at a discount of ₹61 a share to the final offer price. Shares had listed at Rs 700. The TTM (June 2021) adjusted EPS of Rs.16.30 on post-issue basis, the company is going to list at a P/E of 40.61 with a market cap of Rs.35,223 mn. The company's revenue is stable and increased in FY21 with strong EBITDA margin of 45 per cent. Tarsons Products margins are very impressive and it also has well-experienced management. The company has a strong cash flow and it is likely to become debt-free post IPO however the valuations look expensive.
2. Dream11 parent company raises $840 mn at a valuation of $8 bn.
Online fantasy gaming platform Dream11's parent company Dream Sports on Wednesday announced that it has raised $840 million at a valuation of $8 billion. The funding round was led by investors including Falcon Edge, DST Global, D1 Capital, Tiger Global and RedBird Capital. TPG and Footpath Ventures also participated, making it amongst the largest investments globally in the sports tech sector.
Read more at: https://cutt.ly/FT3UVC8
AAA Valuation Comments: Dream Sports is India's leading sports technology company with brands such as Dream11, FanCode, DreamX, DreamSetGo and DreamPay in its portfolio. Company is having more than 140 million user base and earned profit of more than Rs. 181 crore. The company's operational revenue jumped to Rs 2,070.4 crore in FY20, from Rs 775.5 crore in FY19. It attributed the revenue growth to new products and "innovative marketing strategies". After this funding its valuation comes to $8 bn whereas its rival MPL is valued at $2.3 bn after its recent funding of series E.
3. Upstox turns unicorn Raises $25M from Tiger Global as part of ongoing round
Financial technology startup Upstox has crossed the billion-dollar valuation mark in its latest and ongoing fundraising round after raising $25 million from Tiger Global. Upstox has approved the allotment of 18,761 Series C preference shares at an issue price of Rs 98,608. The price per share has grown 28X from Upstox's last funding round. Tiger Global owns around 31.1 percent in Upstox, having invested $25 million in 2019. Ratan Tata and Kalaari Capital are also investors in the startup.
Read more at: https://cutt.ly/DT3UL9H
AAA Valuation Comments: Upstox is one of the fastest growing fin-tech companies in India, today. It was founded by RKSV Securities India Pvt. Ltd., in 2010—a proprietary trading firm focused on a niche clientele. The company has seen an increase in user base of more than 1.85 million and having the second largest market share of approx. 11% next to zerodha. Upstox improved its annual income by 99.6% to around $20.52 mn in FY20 and its revenue per employee is $210,000. Upstox valued more than $1 bn after this funding whereas its rival groww achieved $3 bn valuation mark.
4. Rebel Foods raises additional $14.5 mn in Series F funding round
Rebel Foods Pvt Ltd, which owns brands like Faasos and Behrouz Biryani, has raised an additional Rs 107.64 crore (around $14.5 million) as part of its Series F funding round, according to a regulatory filing. The latest funding was led by South Korea-based Mando Corp, with an investment of Rs 59.5 crore. US-based Acernis Ventures and Bermuda-based Alimco also invested Rs 25.9 crore and Rs 22.3 crore, respectively. As part of the transaction, Rebel Foods allotted 10150 Series F preference shares at an issue price of Rs 106,058. The additional funding comes less than two months after Rebel Foods raised $175 million (Rs 1,308 crore) in its Series F round of funding led by Qatar Investment Authority (QIA) in October this year.
Read more at: https://cutt.ly/dT3UGNg
AAA Valuation Comments: Rebel Foods Services is a food delivery platform that provides delivery services through its mobile app. They serve around 10,000 customers who order through their mobile app and this number is growing significantly every month. The company owns homegrown brands such as Faasos, Behrouz Biryani and Ovenstory Pizza and more than 45 brands, operate in more than 10 countries and having 60% orders from swiggy & zomato. Company is earning revenue of $150 million. Its valuation after funding is $1.42 bn whereas its rival Box8 is valued at $106 mn.
5. Spinny turns unicorn after raising $285 million from ADQ, Tiger Global and others
Online used car marketplace Spinny has raised $285 million in its Series E funding round, led by Abu Dhabi-based ADQ and New York-based investment firm Tiger Global. The round marks its entry to the unicorn club, or those startups valued at $1 billion or more. "ADQ and Tiger Global have invested $100 million each in the company, while $50 million has come from Avenir Growth and $25 million from Feroz Dewan's Arena Holdings," a person familiar with the development said.
Read more at: https://cutt.ly/MT3UUNq
AAA Valuation Comments: Spinny, a Gurgaon-based startup that operates a platform to facilitate the purchase and sale of used cars, is the latest firm to become a unicorn in the world's second-largest internet market. The growth in this space is massive as the total addressable market is of about $220 million. Company is performing well by growing its business by fourth times and present in 15 cities and is expected to expand to 25 cities by the end of the next calendar year. There is a lot of inbound interest in the company and investors are offering 2X premium in the new round over the last one. For every new car sold, there are around 1.5 used cars sold in India. The revenue is increased by more than 236% from the last year. Spinny valued over $1.75 billion whereas its rival Cars24 at a valuation of $1.84 billion.
6. Ipca Labs' board approves acquisition of over 26% stake in Lyka Labs
Ipca Laboratories on Wednesday said that its board of directors has approved the acquisition of 26.574% of the paid-up share capital of Lyka Labs for a cash consideration of Rs 97.89 crore. The company's board has also approved entering into a joint management control agreement with the promoters of Lyka Labs. The open offer to acquire 74,59,400 fully paid up equity shares, constituting 26% of the issued, subscribed, paid up and voting share capital of Lyka Labs has been made at a price of Rs 130.50 per equity share.
Read more at: https://cutt.ly/QT3URO3
AAA Valuation Comments: Lyka Labs Ltd. was incorporated in 1976 and is engaged in the business of manufacturing and marketing of injectables, lyophilized injectable and topical formulations. Products of the company are registered in several countries. Lyka manufacturing units is to gain from Ipca's marketing strategies in branded generic formulations business. Ipca currently does not have any business directly from lyophilized injectables and the acquisition of this shareholding would enable it to enter into lucrative lyophilized injectables business in India and ROW markets. This deal will create synergies and will help to increase the market share. In the six months ended September 30, 2021, Lyka Labs reported an after-tax profit of Rs 49.5 crore on revenue of Rs 109.9 crore. Its Ebidta margin stood at 69%. The expected improvement in the formulation business and increased opportunities in the API space and additional business from the institutional segment indicate strong earnings potential for the company.
AAAVP Monthly Highlights
Knowledge sharing Sessions by Partner:
PVAI RVO organized a Webinar on 'ECG Framework & Impact on Valuation' on 30th November, 2021, wherein our Partner CA. Ankit Goel featured as the Speaker to address the Session.
PVAI RVO organized a Webinar on 'Changes in IVS' on 24th November, 2021, wherein our Partner CA. Ankit Goel featured as the Speaker to address the Session.
IIV RVO organized a Seminar at Jaipur on 'Valuation Report & Compliance with guidelines issued by IBBI on Caveat, Limitation and Disclaimer' and 'IVS & IBC Valuation' on 26th & 27th November, 2021, wherein our Partner CA. Ankit Goel featured as the Speaker to address the Session.
Valuation Assignment Received
Secured assignment for valuation of assets of company engaged in manufacturing of textiles items with book value of assets worth more than Rs.22.15 crores.
Valuation Assignment Completed
Intangible asset valuation of company engaged in Automobiles and three wheelers.
Report of company engaged in providing Clean room Infrastructure under CIRP with assets value of more than Rs.25.12 Lakh.
Interesting Trivia
India is the first country to perform Plastic surgery.
The average smartphone user checks Facebook 14 times a day.
Seventy percent of small businesses are owned and operated by a single entity
Over 170 different currencies are used around the world today.