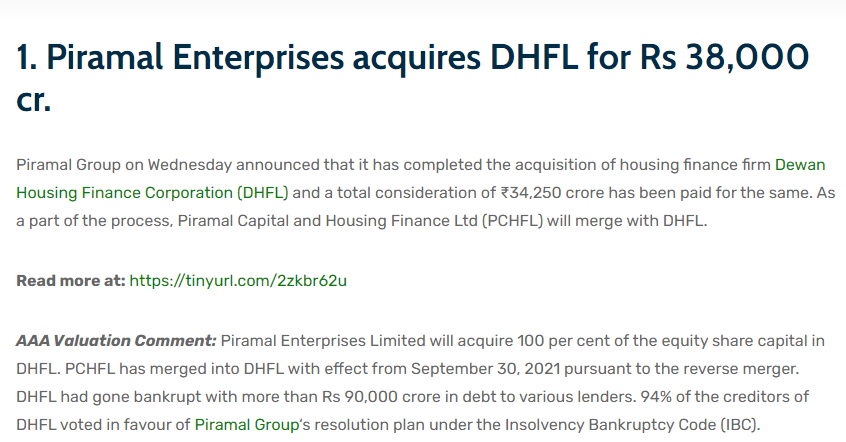 1. Piramal Enterprises acquires DHFL for Rs 38,000 cr.
Piramal Group on Wednesday announced that it has completed the acquisition of housing finance firm Dewan Housing Finance Corporation (DHFL) and a total consideration of ₹34,250 crore has been paid for the same. As a part of the process, Piramal Capital and Housing Finance Ltd (PCHFL) will merge with DHFL.
Read more at: https://tinyurl.com/2zkbr62u
AAA Valuation Comment: Piramal Enterprises Limited will acquire 100 per cent of the equity share capital in DHFL. PCHFL has merged into DHFL with effect from September 30, 2021 pursuant to the reverse merger. DHFL had gone bankrupt with more than Rs 90,000 crore in debt to various lenders. 94% of the creditors of DHFL voted in favour of Piramal Group's resolution plan under the Insolvency Bankruptcy Code (IBC).
2. B2B platform bijnis raises $30 mn in Westbridge Capital-led funding round.
Bijnis, a business-to-business platform for factories, has raised $30 million (about Rs 220 crore) in a Series B funding round led by investment firm Westbridge Capital. Existing investors InfoEdge, Matrix Partners India, Sequoia Capital and Waterbridge Ventures also participated in the funding round.
Read more at: https://tinyurl.com/6tu98h57
AAA Valuation Comment: Bijnis founded in 2015 operates in the unorganized categories of fashion, footwear and lifestyle. Currently, over 5,000 manufacturers run their business on the 'bijnis factory app'. It's simple and scalable operating systems help the manufacturers to improve overall efficiency as they run capacities at optimum level, have efficient raw material sourcing and capital capabilities with direct access to retailers and enables them to build their own distribution channels. It connects these manufacturers with over 1 lakh retailers.
3. VRO Hospitality raises $3 million in CreedCap Asia-led Series A funding round.
Bengaluru-based VRO Hospitality, which owns and operates F&B brands such as Mirage, Hangover, Badmaash, Nevermind, and Tycoons, has raised $3 million (Rs 22.5 crore) in a mix of equity and debt funding. The round includes $1.5 million of equity capital, led by boutique investment banking firm CreedCap Asia Advisors, along with undisclosed angel investors, and $1.5 million of debt, raised in a revenue-based financing model.
Read more at: https://tinyurl.com/59j24yjr
AAA Valuation Comment: VRO owns and operates eight brands of fine-dining, casual-dining, QSR and Café space across 18 outlets in Bengaluru and employs about 600 people. It aims to open 30 outlets by the end of this financial year; scale some of its brands across India, Singapore and Dubai; and expand the team size to 1,200 employees. About 80 per cent of the fresh capital will go into new projects, 10 per cent on technology and team building, and 10 per cent on cloud kitchen brands.
4. Fittr raises $11.5 mn in series A funding round led by Dream Capital, Elysian.
Pune-based health and fitness community platform Fittr has raised $ 11.5 million in Series A funding round. This funding round was led by Dream Capital, corporate venture capital and M&A arm of Dream Sports and the private investment arm of the LA Dodgers ownership group Elysian Park Ventures. Sequoia Capital's India Surge, which is an existing investor, also participated in this funding. Ambit was the exclusive financial advisor to Fittr for this funding round.
Read more at: https://tinyurl.com/53ses5c
AAA Valuation Comment: Fittr is a health and wellness startup. This Fund will be use to speed up growth and expansion into international markets like North America, Singapore and the UK that currently accounts for 30% of the company's overall revenue, while continuing to make the Indian population aware about health and fitness. The company, which currently has over 150 employees, is profitable and has trained over two lakh people. In FY21, it crossed 65,000 paid users and created employment opportunities for over 500 coaches.
5. Pine Labs raises $100 mn from Invesco Developing Markets Fund.
Merchant commerce platform Pine Labs announced on Thursday that it has raised $100 million from Invesco Developing Markets Fund, a US-based investment management company, in a new investment round.
Read more at: https://tinyurl.com/tpskyzmr
AAA Valuation Comment: Pine Labs offers a range of customized offerings for in-store and doorstep payments, pay later at the point of sale, prepaid issuance and online payments to large, mid-market and small retailers. Over 1,00,000 merchants, 15 major banks, 7 financial institutions, and 100+ brands are part of Pine Labs' platform. The company's cloud-based platform powers 3,50,000+ POS terminals across 3700 cities and towns in India and Malaysia.
6. Vedantu raises $100 mn in Series E funding by ABC World Asia
E-learning platform Vedantu is the fresh entrant to India's unicorn club, with a $100 million fundraise in its Series E financing round led by Temasek-backed investor ABC World Asia, and existing investors Coatue Management, Tiger Global, GGV Capital, Westbridge.
Read more at: https://tinyurl.com/kdaxvtdz
AAA Valuation Comment: Vedantu provides a software platform connects tutors and student which provides real-time one to one teaching to students online. In the financial year 2020, company has an annual revenue in excess of Rs 35 crore. The edtech major has also expanded its services to offer preparatory platforms to engineering, medical courses aspirants. The company said it has onboarded 35 million students on the platform with 200,000 paid customers and aims to have half a million subscription-based user base by the end of this year.
7. Meesho raises $570 mn in Series F round, valuation doubles to $4.9 bn
Social commerce unicorn Meesho said on Thursday that it has raised $570 million in a Series F round led by Fidelity Management & Research Company and B Capital Group. Existing investors Prosus Ventures, SoftBank Vision Fund 2 and Facebook also participated in this round. Other new investors include Footpath Ventures, Trifecta Capital, Good Capital and others. Following the raise, the company's valuation has more than doubled to $4.9 billion in less than five months.
Read more at: https://tinyurl.com/yth5u2c3
AAA Valuation Comment: Meesho founded in 2015, operates as an online reselling platform that enables anyone to start a business without investment. Meesho is a business platform trusted by more than 2.6 million resellers across India. It added a range of new product categories to its roster including sports and fitness, pet supplies, and automotive accessories. With an aim to reach $100 million monthly transacting users by December 2022, Meesho expects to utilise the fresh round of funding to enabling 100 million SMBs across tier 2+ cities ,grow its technology and product talent by 2.5x, increase its roster to 50+ million products.
AAAVP Monthly Highlights
Knowledge sharing Sessions by Partner:
IOV RVF organized a Webinar on ' IVS 230 & Practical aspects of Valuing Inventory' on 25th September, 2021, wherein our Partner CA. Ankit Goel featured as the Speaker to address the Session.
SIRIFORT CPE STUDY CIRCLE is organized a Virtual Webinar on the subject 'IBC Framework & opportunities for CAs and professional' and invited our Partner CA. Ankit Goel as the Speaker on 25th September, 2021.
ICMAI RVO organized a Webinar on 'Valuation Standards Conclave' wherein our Partner CA. Ankit Goel featured as the Speaker to address the Session.
Valuation Assignment Received
Secured assignment for valuation of assets of company engaged in the manufacturing of chemicals and metals with book value of assets worth more than Rs.34 crores.
Secured assignment for brand valuation of company engaged in the manufacturing of motor vehicles and spare parts.
Valuation Assignment Completed
Report of company in the manufacturing of metals and alloy under CIRP with assets value of more than Rs. 41 lakh.
Intangible asset valuation of company engaged in the manufacturing of garments for the purpose of financial reporting.
Report on Equity share valuation for company engaged in bookkeeping and accounting services to foreign clients.
Interesting Trivia
Eight core industries including production of coal, natural gas, refinery products, steel, cement and electricity industries output grows 11.6% in Aug.
Sebi releases revised risk management framework for mutual funds.
Microsoft was called Micro-soft and this was a name suggested by Paul Allen. It is a combination of abbreviated terms for microcomputer and software.
TATA group believes in the Parsi legend, humata hukhta hvarshta, which means good thoughts, good words and good deeds.